2021_Slider_TEST_5.jpg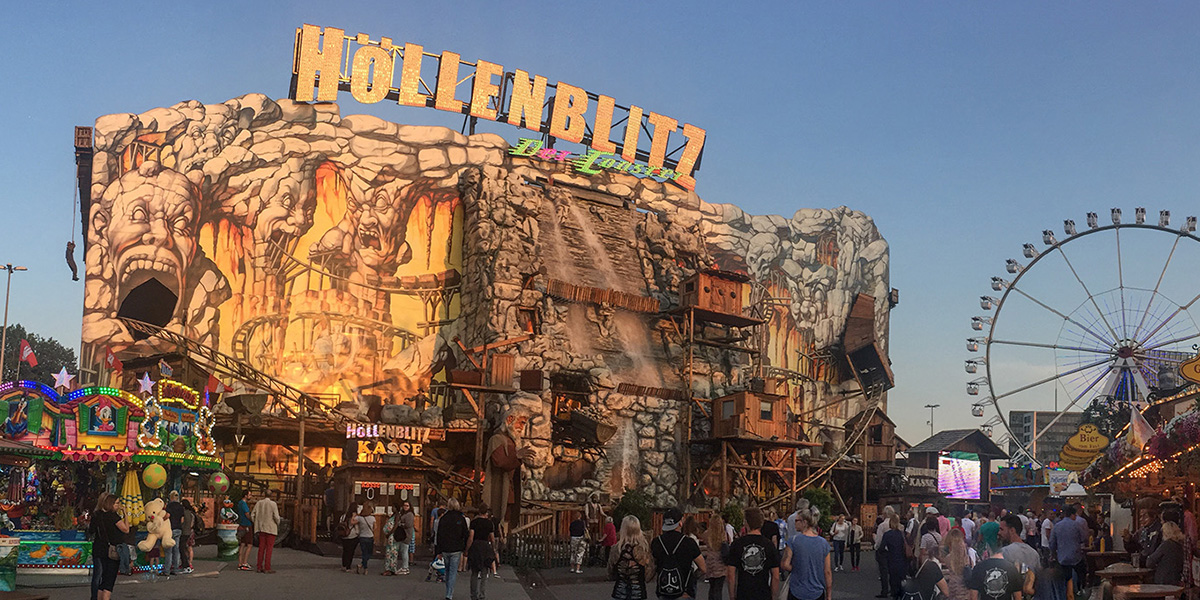 The largest transportable indoor roller coaster in the world
The largest indoor
roller coaster in the world
Deep abysses, seething lava, 30m high waterfall, explosions or thick fog – that is the lightning bolt. At 80 kilometres an hour, the 860-meter-long route through the old mine is a breathtaking adventure journey with great sound effects
and one of the most modern laser shows.
The "Höllenblitz" is the largest indoor roller coaster in the world - in the dark and without loops. The facility has amusement park level – say critics.
Above all, it is the detailed scenery that makes the "Höllenblitz" an unforgettable experience. Everything that belongs to an old Indiana Jones-style mine can be found here: A shaped rock massif with a 30-meter-high waterfall, numerous wooden supports and mine houses, suspension bridges and even an outhouse with miners right at the departure point.
And suddenly a "train of minecarts" rushes down from a rickety wooden shaft and, via a U-turn, it goes straight back upwards.
The "Höllenblitz" is the largest indoor roller coaster in the world. The sound system with over 100 loudspeakers as well as a light and laser show set new standards. 1,800 litres of water per minute tumble down the 30-meter-high waterfall. Numerous spotlights immerse the hell lightning in a breathtaking atmosphere in the evening.
In 2020, all passenger trains were completely renewed, including new upholstery and new brakes that can feed back electricity in a grid-compatible manner.
The Renoldi family has long entertained fair visitors with attractive rides. They have created the largest indoor roller coaster in the world, which has evolved over time and has therefore always remained attractive.
The latest technology and fantastic scenery have been adapted to the wishes of the passengers. A new era has begun with the new "Höllenblitz": For the first time, there is a thematic total work of art with lots of action, the latest technology and a wonderful front scenery.